To get the best quality out of your video camera you have to connect it via Firewire. In the previous version of the Xguide we said that Firewire is not recommended, this was because it require more cpu usage and there weren't any good options to adjust colors properly. In present if you have a good computer (quad core), you can capture the video from camcorder via firewire at maximum available resolution 720×576 usually (or 720×480), and after from a splitter software like Webcamsplitter or Webcamsplitter Pro, image can be manipulated either decreased to 640×480 or increased to 800×600 (with small loss in quality). To get the maximum quality make sure you properly adjust Exposure and White Balance directly from your camcorder + you can add saturation, contrast and brightness from the Webcamsplitter software. Also don't forget that is important to have optimal light in your working room.
Solutions to connect your Camcorder (non HD) with Firewire cable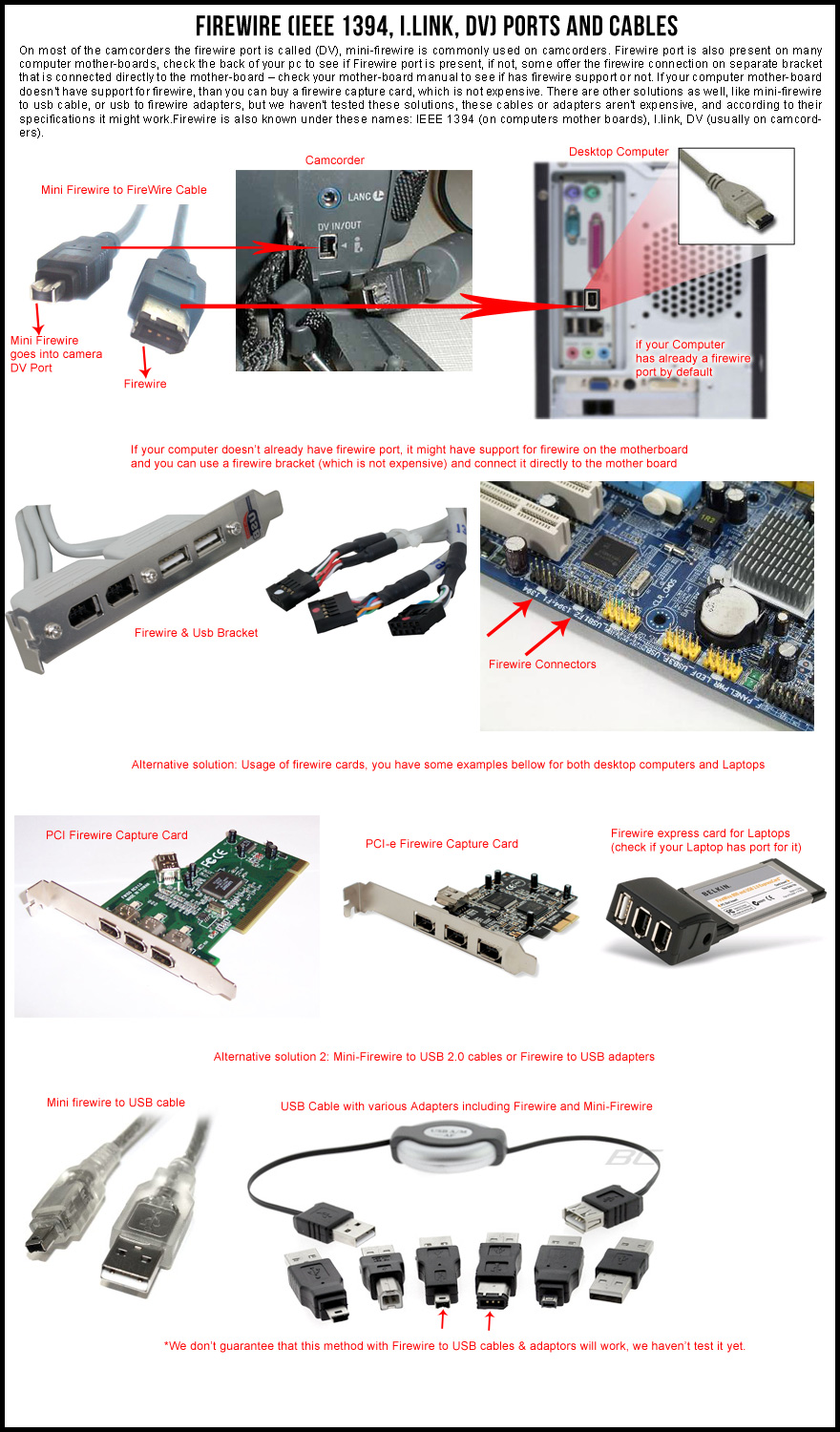 Webcamsplitter (Webcamsplitter Pro) settings instructions when camcorder is connected via FIREWIRE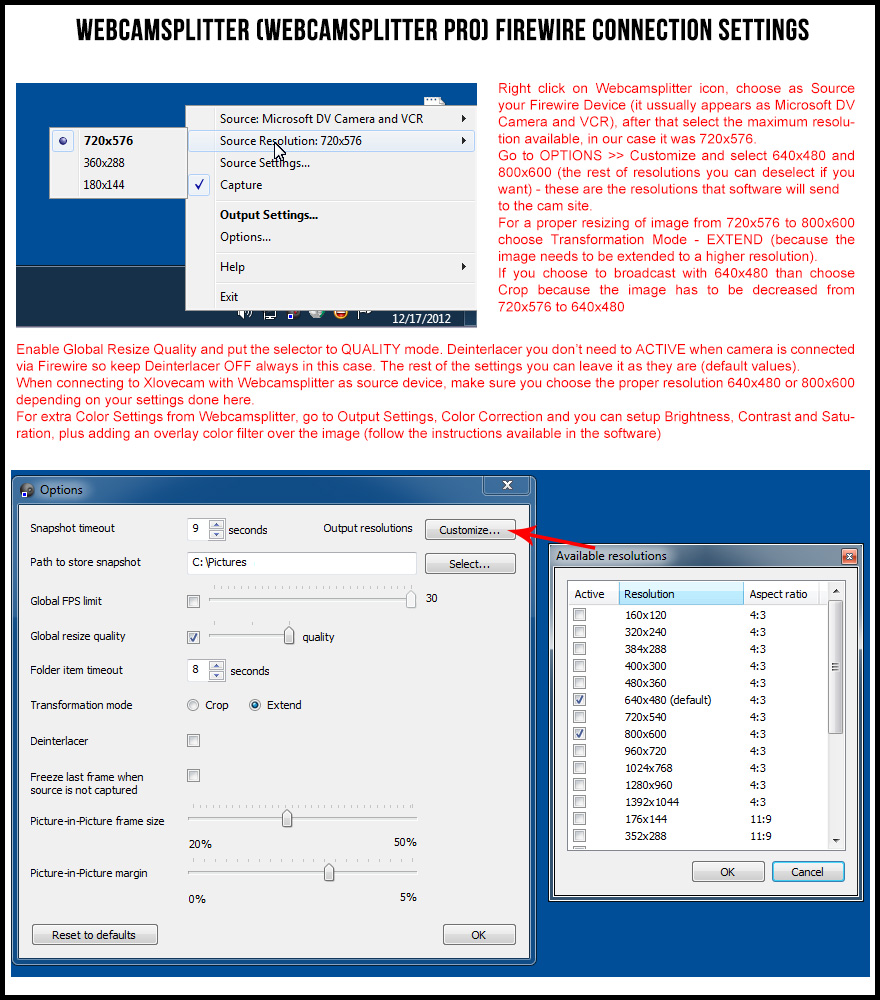 List of devices you'll need for this kind of setup:
Camcorder with zoom and remote control, preferable with manual white balance and exposure functions, with firewire port (also known as DV, I-link)
Pan-tilt is the device that will help moving your camera – up/down/left/right with a remote control (see the images). We recommend Bescor MP-101 or Bescor MP-101b or Bescor MP-360 because is solid and it doesn't break so easy. You could buy Bescor MP-101 from BHphotovideo – make sure you also buy an extension cord for the bescor remote control (RE-20 20′ Extension Cord for MP-101 Pan Head Remote Control will do just fine), there are also wireless solutions, keychain remote control, check their website for more info. If you would prefer a cheaper pan-tilt with a wireless remote control, you could try Vidpro Ebra (ex Ebenk Ebra). Other pan tilt devices are available on the market, simply search for "pan tilt device" on popular search engines to see what is available in your area.
Tripod to support your camera and pan-tilt – you can find this item in any local photo store (a regular one cost 30$-50$ at max – you don't need a pro tripod that are very expensive)
Firewire Cable and Firewire capture card if no firewire ports available on PC
Some images with an camcorder with pan-tilt and trepied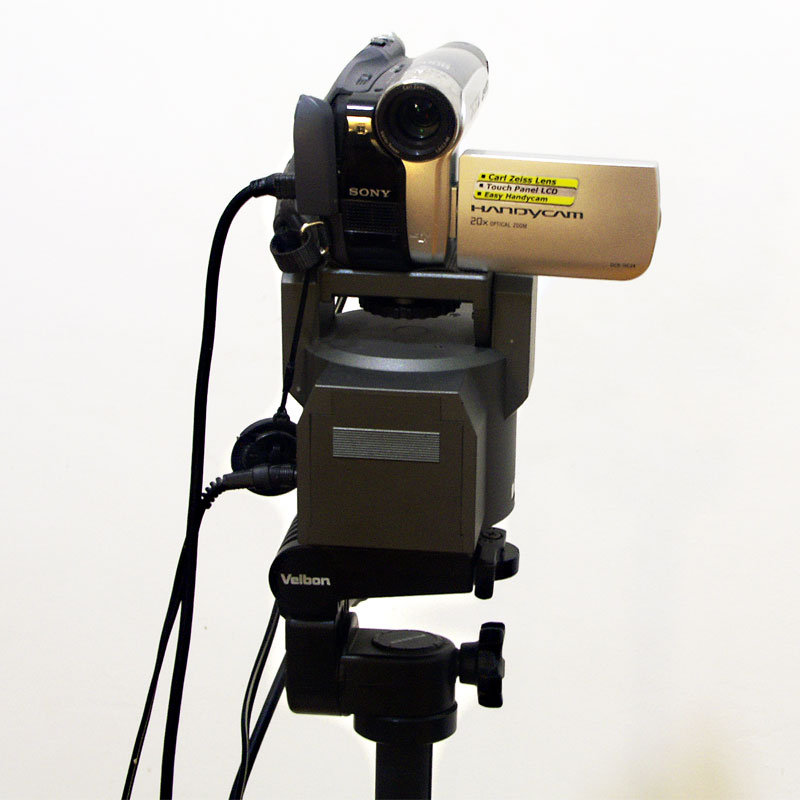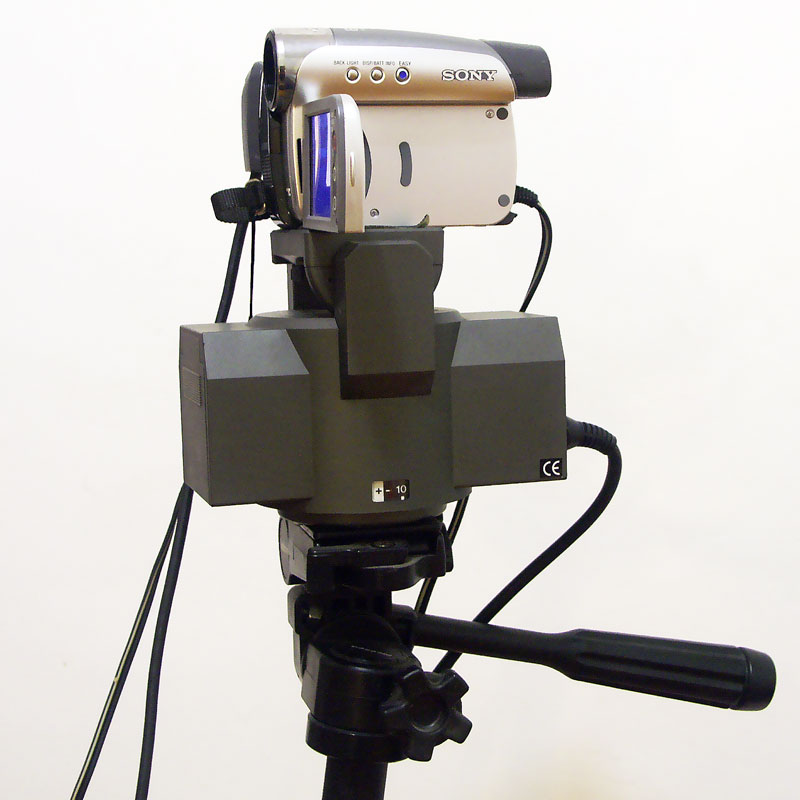 You might think is difficult to install a camcorder and all these accessories, actually is not so at all, especially if you will follow our instructions.
Common questions that are asked by models when it comes to camcorder usage:
Q: Why should I use firewire, when I can connect my camcorder using USB?
A: Is true that some camcorders have streaming capabilities like a webcam, and can be connected using usb, but then what's the purpose of buying a camcorder if you're going to use it like a simple webcam? Quality and frame rates are higher when using firewire, extra color settings can be done from a splitter application like Webcamsplitter or Webcamsplitter PRO. *Note: Near the future new models of camcorders, might be able to stream via USB 3.0, where the speeds are much higher in comparison with old USB 2.0 and 1.1, at that point using your new HD camcorder via USB 3.0 might be ok.
Q: A pan-tilt device is really necessary?
A: No is not, but as we said a pan-tilt device will help you a lot in your activity.
Q: I don't like the colors on the camcorder, image is dark; my webcam is doing much better, why is that?
A: Camcorders requires more lighting than a regular webcam, also you have to learn some basic camcorder features like white balance, exposure etc. You'll find the answers, just continue reading this guide.
Q: I'm earning great money using just a webcam, why should I complicate myself with a camcorder?
A: Yes we know, but doing the step further to better quality will help you generate even more money. If you don't want to complicate yourself with an Camcorder or HD Camcorder, atleast buy a top HD Webcam.
Q: How about usage of Sony Evi series? D30, D70, D100?
A: These are 10 years old cameras, are still good, but not good enough for the present, with a HD Webcam like C920 or BCC950, you can get better image and higher resolutions, better colors etc..a new BCC950 costs around 200Euro (and price will decrease in the next months) while a new D100 is over 600Euro (10 years old camera) and a second hand one can be over 400euro, and as we said in this guide, maximum resolution of D100 is 640×480, plus that depending on the tv tuner or capture card you use, cables etc, the image quality can get reduced a lot. The new generation of Evi products is Evi HD1, but this camera costs around 1800Euro (without the hd capture card or tvtuner), you can get much cheaper HD setup with same quality results with an HD camcorder + HD Capture Card + Pan tilt (less than 1000Euro with new products, and less than 500Euro with second hand HD camera + new HD Capture Card and new pan tilt)
Q: How about using my camcorder the old way, with analog tv-tuner or capture card?
A: Is still good but old method, with analog setup you can't have more than 640×480, image quality is decreased, also interlaced (those lines that appear when you move), deinterlacing the image will decrease quality even more, therefore sooner or later it is recmmended to make the step further for higher quality either with a Top HD Webcam, Camcorder connected via Firewire, or HD Camcorder connected to an HD Capture Card.