Lighting plays the most important role for optimum video quality. When a camera is focused on subjects poor illuminated, it must compensate for the low light and it will turn the video gain up or will slow the shutter speed. This results in a blurry, not colorful picture also with a noticeable increase of noise. This noise makes compressed jpeg image to have a very poor quality and also it will increase the image file size. Without proper lighting final image will look bad even with an expensive camcorder.
When we talk about lighting we don't refer only to intensity, we have to take in consideration also the color temperature fact. According to WikiPedia "Color temperature is a characteristic of visible light that has important applications in lighting, photography, videography, publishing, and other fields." Also "higher color temperatures (5000 K or more) are "cool" (green-blue) colors, and lower color temperatures (2700-3000 K) "warm" (yellow-red) colors. Cool-colored light is considered better for visual tasks. Warm-colored light is preferred for living spaces because it is considered more flattering to skin tones and clothing"
Learn more about color temperature of the light:
Check out also: Color Temperatures in Video Lighting from ExpertVillage.com
You will find on the web many tutorials about lighting, but most of them refer at professional lights usage. We are aware that many independent models don't want to spend a lot of money for pro lights; therefore we'll try to keep things simple and inexpensive (but still efficient). First of all you need to improve the global lighting of your working space. A normal bulb with 75W to 100W, lighting a room from the middle of your ceiling, might be ok for your eyes, but definitively is not enough for your camcorder or webcam. Even if you add more normal bulbs things might not get any better. Instead of using many bulbs (for the global light) you could use 1 or 2 with higher intensity. We recommend using fluorescent power saving (economy) lights (bulbs or tubes). Don't buy those halogen reflectors for outside illumination – are not suitable for indoor use.
Here is an example of what kind of fluorescent bulbs we are talking about: 105 Watt Compact Fluorescent Light Bulb
This 105W bulb is 500 Watt Incandescent Equivalent meaning that it has the power of 5 or more regular 75W-100W incandescent bulbs. Depending on your room size you might need 2 bulbs like the one from our example.
Here is a simple lighting setup example for a medium size room (4×3.5 m , 2.5m high):
IMPORTANT NOTE!!! FOR LOGITECH HD WEBCAMS IS BETTER TO USE LIGHT OF SAME COLOR TEMPERATURE, WE NOTICED THAT WHEN COMBINING WHITE WITH YELLOW LIGHTS, THE WHITE BALANCE SETTINGS ARE NOT ALWAYS WORKING PROPERLY ON MANUL MODE.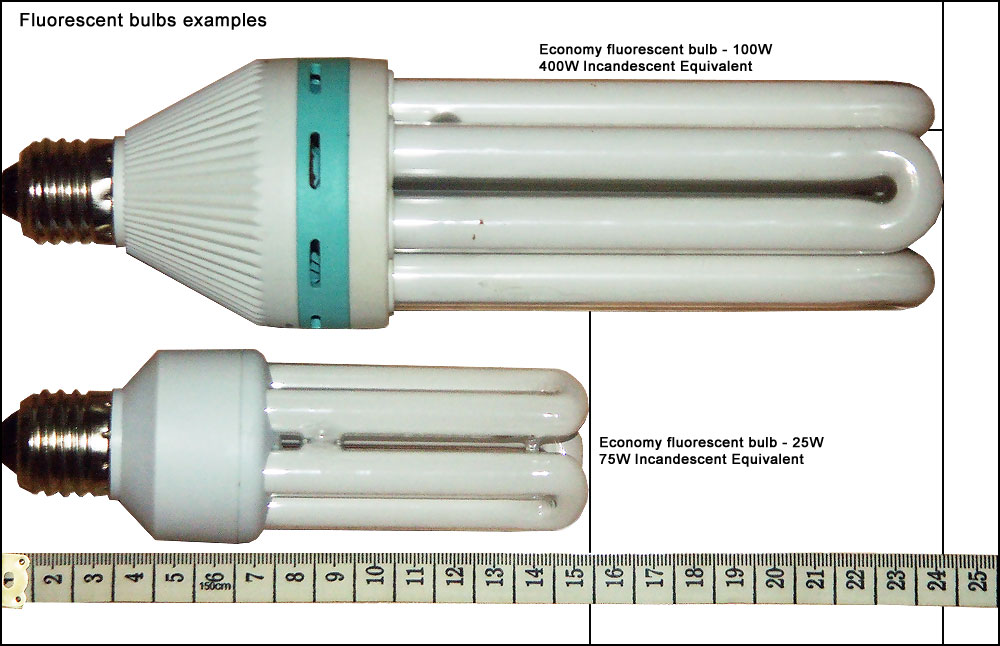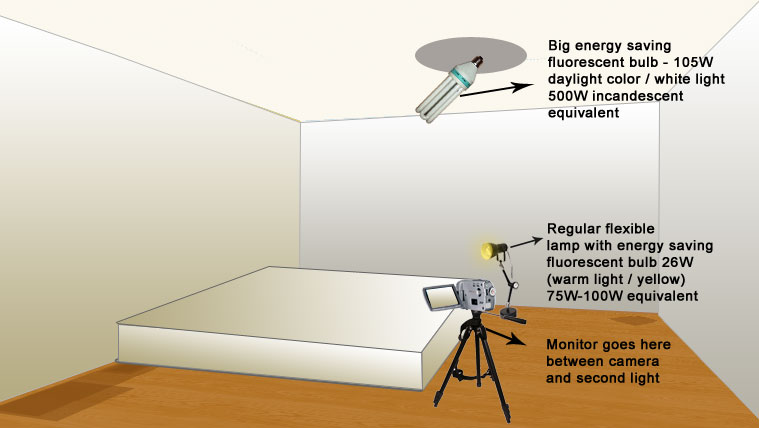 Check also these tutorials about lighting techniques: Video Production Lighting
The more you learn about lights the easier will be for you to obtain a great video quality. Don't expect to have the perfect lights setup from your first try. Play with the lights in terms of intensity, distance and color temperatures. Adjust the exposure of your camcorder if needed and don't forget to set the manual white balance.
If you don't know how to set the exposure or manual white balance checks out these video tutorials: (locations of these settings will vary depending on camcorder type)
Few more things you should be aware of:
Is better to cover your room windows so that the sunlight to stay out from interfering with your lighting setup.
Make sure no lights are pointed directly to your camera lens
When you play with the lights make sure your tv-tuner color settings are set to default, you should try to get the best image possible only using lights and after that you can adjust more from the tv-tuner settings.
Make sure your monitor brightness and tones are on factory default while you setup the lights and/or software image settings. If you manually reduced the screen brightness for example, you might be wrong with your image adjustments – visually you'll be ok on your screen, but for people that use factory default settings your image might look burned out (too much brightness).