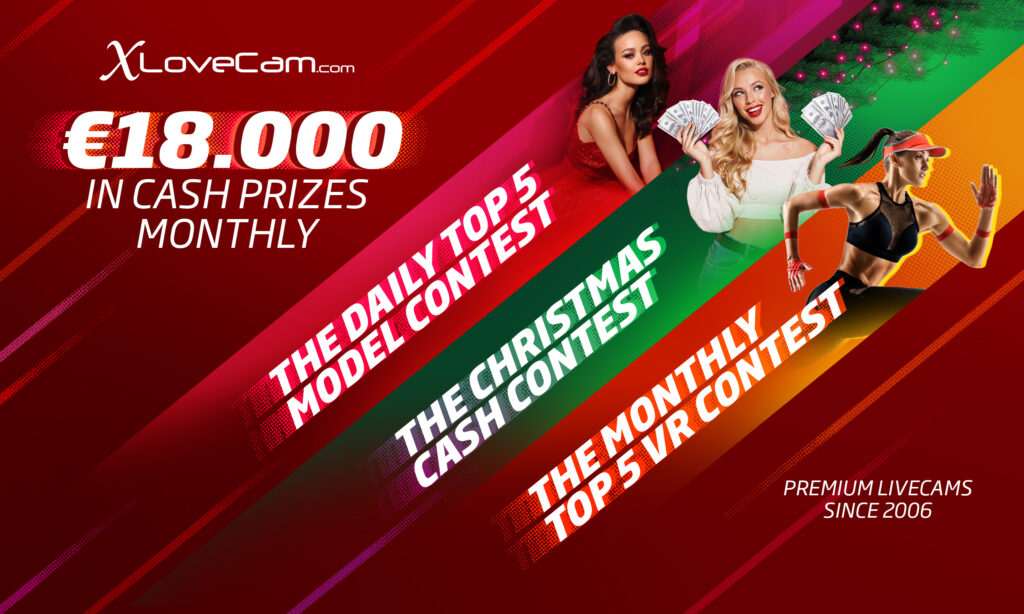 XloveCam.com Model Contests : 18 000 euros in cash monthly
In the fast-paced world of adult entertainment, models are constantly looking for opportunities to showcase their talents and build a dedicated fan base. XloveCam.com , a leading adult webcam platform, recognizes the importance of appreciating and motivating cam models. To this end, the platform hosts three exciting and rewarding contests:
"The Daily Top 5 Model Contest",
"The Monthly Top 5 VR Contest",
"Best Converting Model Contest".
These contests offer not only fame and recognition but also substantial cash benefits for the models, helping them grow professionally and financially. Let's delve into the details of each contest and the benefits they bring for the aspiring models on XloveCam.com.
"The Daily Top 5 Model Contest": €14 000 paid out monthly to models
The Daily Top 5 Model Contest is a dynamic competition that runs every day, giving models the chance to rank among the top performers based on their daily earnings. This fierce competition encourages models to put their best foot forward, engage with their audience, and offer captivating shows. The benefits of participating in this contest are twofold.
Firstly, it offers models a chance to be prominently ranked on the XloveCam.com homepage. This prime visibility can attract more viewers and potential fans, increasing their exposure and potential earnings significantly. Additionally, models who consistently make it to the Daily Top 5 gain a reputation for reliability and captivating performances, further enhancing their popularity and fostering a loyal following.
Secondly, the contest provides financial incentives. The platform also actively informs users of models in the top 40 and how much they may need to rank higher. Models who secure a place in the Daily Top 5 receive attractive cash prizes. This not only serves as an acknowledgment of their hard work and dedication but also acts as a motivating factor to continue delivering top-notch performances.
"The Daily Top 5" winners get the following cash prizes each day:
First place: €200
Second place: €100
Third place: €75
Fourth place: €50
Fifth place: €50
In Total, over €14,000 paid out monthly to models.
"The Christmas Cash Contest: Best Converting Model contest" (December): €38 000 paid out to models
The Best Converting Model Contest, held annually in December, focuses on converting free users into paying customers. Models who excel in persuading viewers to become paying members are eligible for this contest. Participating models can reap numerous benefits from this unique competition.
Firstly, the contest provides a platform for models to enhance their sales and marketing skills. It encourages them to engage effectively with potential customers, create a loyal fan base, and offer personalized experiences that entice users to invest in their shows.
Secondly, the Best Converting Model Contest rewards models not only based on their earnings but also on their ability to establish lasting connections with their audience. This recognition highlights the importance of building meaningful relationships with viewers, leading to a more sustainable and successful presence on the platform.
The last contest held in December 2022 celebrated 205 models with following payout:
The cash prizes are as follows :
€8,000 for the 1st place
€5,000 for the 2nd place
€2,000 for the 3rd place
€700 for the 4th place
€300 for the 5th place
From 6th to 205th place: €100 per model.
In Total, over €38 000 paid out to models.
"The Monthly Top 5 VR Contest":
As technology continues to revolutionize the adult entertainment industry, virtual reality (VR) content has emerged as a game-changer. XloveCam.com recognizes the potential of VR shows and, as such, introduced the Monthly Top 5 VR Contest starting on August 1st, 2023. This contest seeks to reward models who excel in providing immersive VR experiences to their audience.
Participating in the Monthly Top 5 VR Contest comes with several advantages for models. Firstly, it allows them to tap into a niche market and stand out from the competition. By offering interactive and lifelike VR shows, models can attract tech-savvy users looking for a more intimate experience. This opens up new revenue streams and expands their fan base.
Moreover, VR shows require a higher level of technical expertise and creativity, encouraging models to invest in their skills and production quality. Consequently, they can develop a unique brand identity, making them more memorable to their viewers.
To further incentivize participation, the Monthly Top 5 VR Contest offers cash rewards and special recognition for the winners. This recognition boosts the models' reputation within the industry and serves as a testament to their adaptability and commitment to innovation.
The following cash prize is paid to The Monthly Top 5 models:
First place: €200
Second place: €100
Third place: €50
Fourth place: €25
Fifth place: €25
"The Daily Top 5 Model Contest", "The Monthly Top 5 VR Contest", and "The Christmas Cash Contest: Best Converting Model" Contest are exceptional opportunities for models on XloveCam.com to excel, gain recognition, and boost their earnings. These contests encourage models to constantly improve their skills, invest in cutting-edge technologies, and engage effectively with their audience. Moreover, the rewards and recognition garnered from these contests propel models towards long-term success on the platform. XloveCam.com's commitment to nurturing and celebrating models reinforces its position as a leading adult webcam platform, attracting top talent and providing unparalleled experiences to viewers worldwide.